Who doesn't love a weeknight date with an 8-year-old? Monday night, I took DJ to see The Avengers and, rather than do a typical movie review, I thought I'd just blurt out the answers to the questions that were on my mind before I went to see it.
Q: I heard on NPR that they opened Avengers overseas first so they could recoup the investment in the movie before it opened in the U.S. (An indication U.S. sales may slip.) Did it really suck that bad?
A: Uh…NO…absolutely not. When I heard that, I was expecting to be "meh" about the whole thing, quite honestly. I took advantage of the free tickets because I knew DJ would be excited to see a movie before it came out. But I was genuinely, thoroughly entertained. So much so that DJ and I immediately came home and told Scoot that we should go see it again as a family.
Q: Will the dirty looks I get for taking my elementary school aged kid to see this be justified or no?
A: No. DJ is 8. I was nervous about taking him to a PG-13 movie that I hadn't prescreened. He's seen other PG-13 movies (e.g., Transformers) but we usually get the chance to see them first to make sure the violence isn't too extreme or too real and the sexual innuendo isn't too over the top. He. LOVED. It. There was only one scene with "real" blood…most of the rest of the "violence" was either fist fighting-style or big explosions that weren't particularly graphic. The sexual references were subtle enough that they went well over his head. And DJ laughed and laughed and laughed at the jokes. There was a tiny kid (maybe 3 or 4?) in the audience and he did just fine. Though he's not a huge fan of 3D, I think Bop (age 5) would even enjoy it. (He loves him some super heroes.)
Q: I'm more of DC Comics/Batman freak fan. Will I like a Marvel movie?
A: Do you like action? Characters with great chemistry? Funny jokes? Awesome fight scenes? Big explosions? Samuel L. Jackson? Baseball and apple pie? If so, you'll enjoy it even without Bruce Wayne. (Sorry, Bruce, you know I still love you.)
Q: Does this movie stay true to the comic books?
A: I have no idea. I don't do comic books. But I do know that there were CLEARLY some comic book fans in the full theater… (many looked just.like.this.)…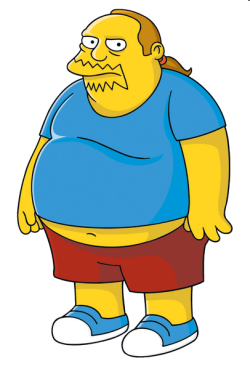 …and they CLEARLY enjoyed the movie. They were hootin' and hollerin' throughout the whole thing and when a new character was introduced (one they obviously recognized), they cheered with excitement. I'd say that the comic book geek endorsement level was quite high.
Q: Do you need to have seen Thor, Captain America, Iron Man, or The Incredible Hulk to "get" this movie?
A: No. I'd seen Captain American and Iron Man 1 and 2. DJ had only seen Iron Man, I believe. We both really enjoyed the characters, their roles in the film and their development throughout the film. Though some of them disappear for a bit, they all get reasonably equal billing…no small feat for this kind of ensemble cast.
Q: I don't really like Scarlett Johansson. Is she going to ruin this movie for me?
A: She won me over in her first scene.
I mean, the chair part? Awesome. And she held onto me throughout the rest of the film.
Q: Do I really need to see it in 3D?
A: I only saw it in 3D so I have nothing to compare it to. But I thought they handled the 3D well. Gone are the days when you need to be hit over the head time and again with cutesy 3D tricks. With the novelty of 3D long worn off, I prefer my 3D effects to be seamlessly integrated into the movie so that it enhances the story without calling attention to itself. This movie succeeded at that. So I'd say, go see it in 3D and take advantage of the craftsmanship.
Q: Do I need to walk, run or run away from this one?
A: Run. See it when the theaters are packed with comic book buffs. It's like having a bottle of wine with a wine connoisseur or going to an art museum with an artist. I sincerely felt like I enjoyed it more being around others who were so clearly enjoying it.
**Disclosure: I received two free passes to this screening from Disney. I was not asked to write about it nor was I compensated for this post. The opinions expressed here are my own. And DJ's. Heh.**